Board of Directors
Board Structure
The Board of Directors consists of seven active members that are elected by the membership. Each member holds the position for two years. Elections are held at the Council's Annual General Meeting. No more than two individuals from any one investigative body may be on the Board of Directors at any time. Directors may be appointed by the President as chairpersons to one ore more standing committees. The Board may also appoint other Directors or Members of the Council to assist in accomplishing those goals and objectives required by the Board. Board members elect the Executive Committee from amongst themselves which consist of a President, Vice President, Secretary and Treasurer.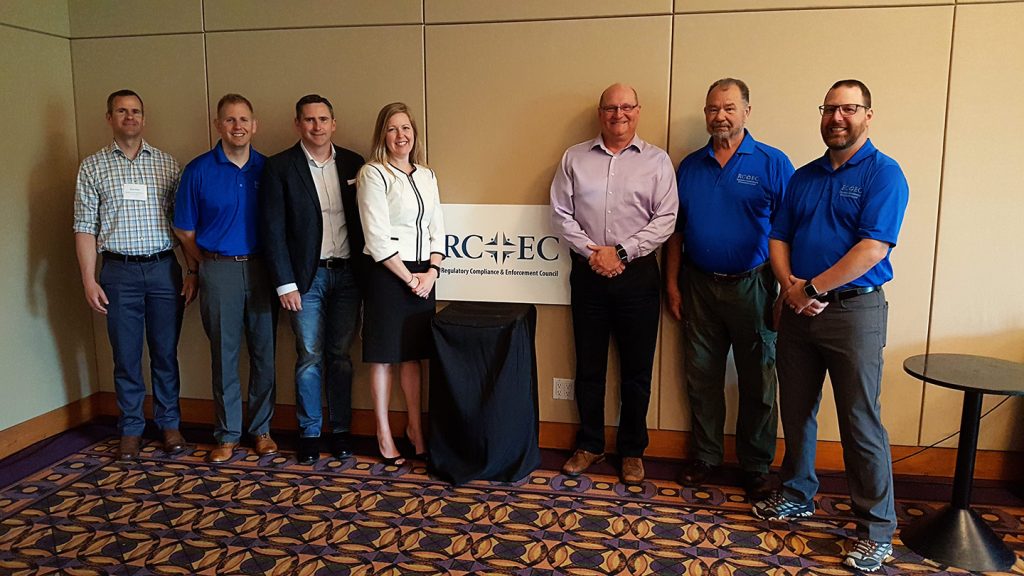 Board Members
Tanya Cadeau, RCEC President
Tanya Cadeau is currently Manager, Racing Eligibility – Alcohol and Gaming Commission of Ontario.  Tanya joined the Alcohol and Gaming Commission of Ontario in 2007 as the Manager of Training & Project Management within the Investigations & Enforcement Bureau.  She has provided leadership in the development of policies, standards and protocols for inspection staff and has overseen the development of provincial training programs for multi-disciplinary teams across regional offices.  Tanya has contributed to many innovative initiatives at the AGCO and has also held roles in Human Resources Training and Development and now Operations Division.  She was the recipient of the AGCO Award of Excellence, recognized for her leadership and commitment on a significant amount of transformational projects.  Prior to joining the AGCO, Tanya worked with in the Police Quality Assurance Unit of the Ministry of Community Safety & Correctional Services and the Ontario Provincial Police.
Jeremy Locke, RCEC Treasurer
Jeremy Locke joined the Ontario Racing Commission in 2004 as an investigator and was promoted to Team Leader for the Regulatory Investigations Division in 2007. Currently, Jeremy is Manager of Special Projects for the ORC. As well, Jeremy is a member of the faculty of Fanshaw College where he teaches business law and labour relations. Prior to Jeremy joining the ORC, he worked with the Ontario Society forthe Prevention of Cruelty to Animals as the Senior Inspector for Western Ontario; managing the Society's investigators in the western portions of the province as well as managing their provincial training program for its' investigators.
Terry Weller, RCEC Secretary
Terry Weller is Head of Investigations for the Financial Services Commission of Ontario, Licensing and Market Conduct Division.  Terry has an enforcement career going back to 1972 when he became a member of the Toronto Police Service.  He was involved in general assignment work and progressed into specialized units such as the Sexual Crimes, Emergency Task Force, Fraud Squad and Marine Unit where he was involved in numerous related criminal investigations.  In 1990, Terry began his career with the Ontario Public Service in the Investigations Branch of the Ministry of Financial Institutions and through a series of Government changes moved to the current Investigations Unit of the Financial Services Commission of Ontario.  Here he was involved primarily with investigations in the insurance and mortgage brokering sectors.  In 2010 Terry became the Head of the Investigations Unit and directs a team who are responsible for the investigations related to insurance corporations and agents, mortgage brokering, loan and trust corporations, pension plans and more recently health care service providers.  Terry retired in December, 2019.
Ryan McAfee, RCEC Director
Ryan McAfee presently holds the position of Inspections Manager at the Retirement Homes Regulatory Authority (RHRA) where he leads a team responsible for promoting and verifying compliance with provisions of the Retirement Homes Act, and protecting retirement home residents from abuse and neglect. Prior to joining the RHRA, Ryan held various roles in regulatory compliance and enforcement while employed with the Ontario Public Service. As an advocate for ongoing professional education and development, Ryan has been the recipient of the Ministry of Revenue's Education Enabler Award, as well as the Alcohol and Gaming Commission of Ontario's Innovation Award for modernizing the organization's employee tuition reimbursement program. Ryan recently completed a Master's degree at Niagara University, where he undertook primary research that involved deception detection.
Ryan Kelly, RCEC Director
Ryan Kelly has been working in law enforcement for the past 18 years. He started his career as a Toronto Police Constable, and after a number of years of uniform experience, he settled into the Technological Crime Section specializing in computer forensics. In 2014, Ryan moved to the Ontario Ministry of Finance where he is the manager of the Forensic Data Recovery Unit. Ryan is an expert in his field, holding a number of computer forensic certifications. He volunteers with the International Association of Computer Investigative Specialists where he mentors students from around the world including the Department of Homeland Security and the FBI striving for their Certified Forensic Computer Examiner certification.
Tony Thompson, RCEC Director
Tony Thompson is into his second term as Director for the RCEC.  Tony has over 37 years' experience in law enforcement.  Tony's experience includes front line policing with the RCMP in BC and with a municipal police service near Peterborough; creating and managing the Special Constable group at Toronto Community Housing; and leading Municipal Enforcement Departments for three municipalities for about 14 years.  Tony is currently Manager of Investigation with the WSIB.
John Mania, RCEC Director
John Mania is a licensed Private Investigator (Ontario), a CLEAR certified Investigator, and currently an Enforcement & Outreach Officer with Professional Engineers Ontario leading a modernization initiative comprised of a seventeen-person team. Previously he was a Provincial Offences Officer leading a team of forty Inspectors and Investigators as the Manager of Compliance & Enforcement for skilled trades regulator the Ontario College of Trades. He holds a Bachelor of Technology from Ryerson University, having worked twenty years in the private sector before moving to the regulatory sector in early 2014.
Jacob B. Omajali, PhD, RCEC Director
Jacob is currently an Inspector with the Canadian Food Inspection Agency (CFIA) within the Interior of British Columbia where he ensures compliance of federally regulated third parties to the provisions of applicable Acts and Regulations, policies and guidance documents. He is also a member of the BC emergency response team within the field epidemiology group, responsible for providing data during animal disease outbreaks such as the Notifiable Avian Influenza (NAI). Before his transition to the CFIA, Jacob spent over 10 years in different countries, teaching and carrying out scientific research related to environmental and industrial applications of novel materials, the latest being at Thompson Rivers University in Kamloops, BC where he taught Chemistry and Biochemistry while conducting research in Fish nutrition and biochemistry. He earned a PhD in Biosciences from the University of Birmingham in England through an award sponsored by the Commonwealth Scholarships Commission of the British Government. Presently, Jacob volunteers as the secretary to the School Council of the St. Ann's Academy in Kamloops, BC. When he is not busy contributing to scientific knowledge through editorial service, peer review of scientific manuscripts, writing of papers in peer reviewed journals; he engages in travelling, exploring new environments and cultures and spending quality time with his beautiful family.